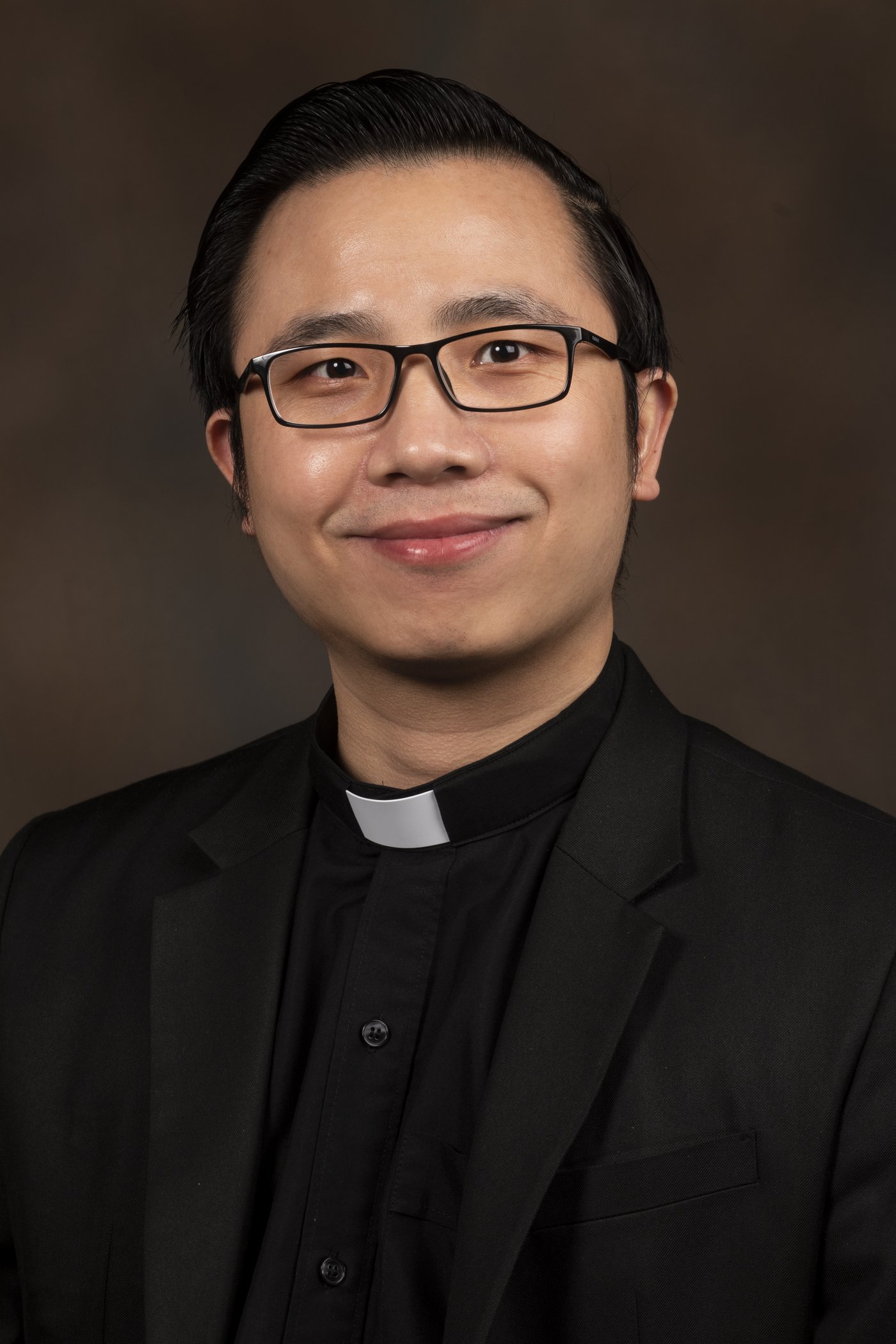 Fr. Quan Nguyen
Associate Pastor
Fr. Quan Nguyen was born on July 5, 1988 and raised in a Catholic family in the rural area of Vietnam. He is the son of Nguyen Huu Khiem and Bui Thi Huy, who gave him the first sense of serving God and people and have played an important role in motivating and inspiring his vocational journey. He is the fourth of the five children. He graduated from Quynh Luu High School in 2006 and got a Bachelor's degree from Hue University of Science in Mass Communication in 2010. He started seminary in 2011 with the diocese of Vinh and graduated from Vinh Thanh Seminary with a degree in Philosophy. In 2016, Fr. Quan was accepted as a seminarian for the Archdiocese of Louisville and began studying English at University of Louisville. In 2017, he began studying theology at Saint Meinrad Seminary and School of Theology in southern Indiana. He received a Master of Divinity degree from Saint Meinrad on May 8, 2021. He was ordained a deacon on November 28, 2020 and ordained a priest on May 29, 2021 by Archbishop Joseph E. Kurtz at the Cathedral of the Assumption of the Archdiocese of Louisville, Kentucky.
Fr. Quan's parents and siblings currently live in Vietnam. His parents, virtuous parishioners, have been participating in serving in many various activities of their parish. His brother is an engineer of technology. He has three sisters: one of them is a high school teacher and two other sisters are nuns of the Sacred Heart of Jesus Congregation, who have always motivated his priestly vocation. Furthermore, he was living with the pastor of his home parish in Vietnam when he was eight years old. The pastor, whose name is Father Anthony Bui Duc Duyet, was a man of prayer who encouraged and taught him how to pray, contemplate, and grow his spiritual life. The pastor was also a man of the poor who was willing to support the poor, both Catholics and non-Catholics. This image of the pastor inspired him to have a sense of love and compassion for others in the Church and society.
Fr. Quan is excited to begin his priesthood and serving the people of St. Patrick and St. Boniface parishes. For him, becoming a priest helps to satisfy his desire to serve God and His people. He would like to discover deep dimensions of a servant of God and the Church to be a faithful witness of the Word of God in his life with a humble heart and a prayerful soul. He looks forward to expressing the love of God for the sick, the poor, and the vulnerable. He wants to bring hope, joy, and love for others through caring for community and celebrating the sacraments of the Church, especially Reconciliation, the Anointing of the sick, and the Holy Eucharist. As a priest of Jesus Christ in holy cooperation, he hopes to have been configured in Christ and sanctify not simply in his name but in the person of Christ, the Head. He is trying to bear abundant fruits for the life of the Church and for the salvation of the world in his priestly life.