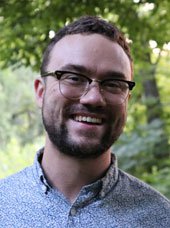 Erik Huff
Coordinator for Hospitality and Communication
Erik was born and raised in Cincinnati, Ohio. As the Coordinator of Hospitality and Communication, he is a friendly face around St. Patrick, especially at weekend Masses. Erik is a proud graduate of the University of Cincinnati where he majored in business management technology. He also holds a degree in Theology from Catholic Distance University and is working towards MA from Mount St. Mary's of the West.
He and his wife Gabrielle are eagerly awaiting their first child due at the start of next year.
His mission at St. Patrick's is to assist in providing whatever means necessary to allow everyone to experience the love and mercy of Jesus Christ.