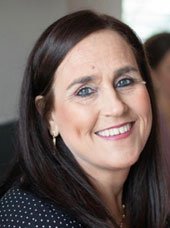 Jonna O'Bryan
Director of Youth Ministry
Jonna O'Bryan has been the Director of Youth Ministry for the Community of St. Patrick since 2015.
Jonna brings to St. Patrick 24 years of Youth Ministry Experience. Five years with Meade County Catholic Youth Ministry, fifteen years at Good Shepherd Parish in Evansville, IN and the last four years at St. Patrick. Jonna strives to reach out to the young people of St. Patrick for continued growth in our youth ministry program. The Youth Program at St. Patrick has proved to be faith-filled and enriching in ways that are interesting, fun, practical and real.
Jonna has been married to her husband John for over three decades. They have two children: Emily and Robert, who both have growing families. Jonna and her husband John are active members of St. Patrick Church. Favorite past times are loving, laughing and making lasting memories with family and friends.
Jonna encourages all (from youth participants to adults who would like the opportunity to mentor young people) to engage in the dynamic Youth Ministry Program at St. Patrick. Together we can make a difference as we provide opportunities for our youth to deepen their relationship with Christ.