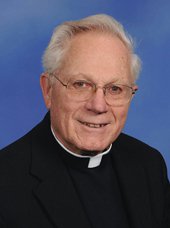 Fr. Bob Osborne (Fr. Oz)
Senior Associate Pastor
Father Robert Osborne was born in Louisville, KY. He attended St. Francis of Assisi Parish Elementary School and St. Meinrad Minor and Major Seminary.
He was ordained in 1954 and assigned to St. Benedict Parish as Associate Pastor. In 1957, he was assigned to teach at Trinity High School until 1970 and during this time was also a parish minister on weekends serving the parishes of St. Barnabas, Cathedral of the Assumption, St. Martha and Our Lady of Lourdes.
Father Oz was awarded a mathematics MTS degree (Master of Teaching of Science) from The Catholic University of America in 1966.
He was appointed Pastor of St. Vincent de Paul, St. Lawrence and Our Lady of Lourdes and retired as Pastor in 1999. He is now Senior Associate Pastor at St. Patrick.
Father Osborne has also worked in the Marriage Tribunal of the Archdiocese for the last 15+ years.