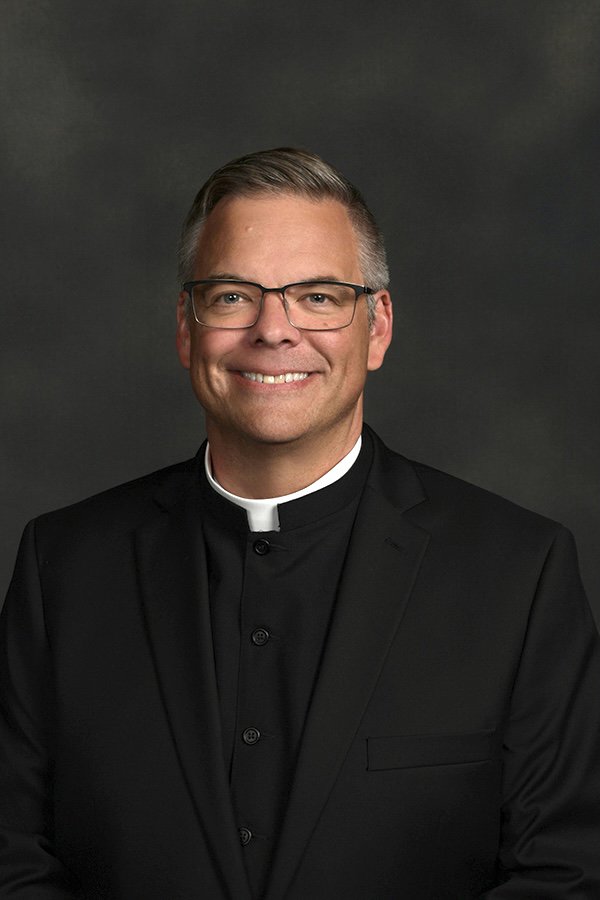 Fr. Jeff Shooner
Pastor
Fr. Jeff Shooner attended St. Polycarp parish and school and is a 1989 graduate of Holy Cross High School. He is a 1993 graduate of the United States Air Force Academy with a Bachelor of Science in Political Science and served active duty as an intelligence officer. He attended seminary at Theological College at the Catholic University of America in Washington, DC, and was ordained to the priesthood for the Archdiocese of Louisville on December 11, 2004.
Fr. Jeff has served as associate pastor at Immaculate Conception in LaGrange and at St. James in Elizabethtown. He has also served as pastor of St. Lawrence and as sacramental moderator of St. Boniface. He has served on many committees throughout the archdiocese. He is an Eagle Scout and has been active in the Catholic scouting community. He has served on the Board of Directors for Holy Cross High School. He also serves as Pastor of St Boniface Catholic Church and as the Vicar for Priests for the Archdiocese of Louisville.
While deeply rooted in the Catholic Faith, Fr. Jeff has benefitted from the love, wisdom, example and prayers of Protestant brothers and sisters at many key moments in his life. In many bible studies and prayer groups through the years, he came to encounter Jesus Christ, the Word of God, in a truly personal way. He experienced freedom through the work of the Holy Spirit and has a profound trust in God's providence. It is that providence expressed in love of God and neighbor which guides the life and vitality of the St. Patrick community.