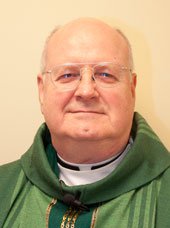 Fr. Tony Smith
Senior Priest in Residence
Fr. Tony Smith, born, Thomas Anthony Smith, 26 April 1949, one of 13 children, was raised and educated in Bardstown, Kentucky, before entering the Seminary for the Missionary Servants of the most Holy Trinity, the Trinitarians. Upon leaving the Community and after serving his country in the military, during the Vietnam conflict,
Fr. Tony returned to the Diocese in 1980 and was ordained to the priesthood in 1983 by Archbishop Kelly. Fr. Tony received a traditional Catholic Education, taught by the Sisters of Charity of Nazareth, and the Xaverian brothers, before entering the Seminary and University System where he earned degrees in Philosophy, Psychology, Systematic Theology and a PhD in Historical Moral Theology. Fr. Tony has served the Louisville Church in 11 assignments ranging from country parishes, e.g., Saint Martin of Tours in Flaherty, Kentucky, suburban parishes, e.g., St. Lawrence, from which he recently retired, and urban parishes, e.g., Holy Spirit on Lexington Road.
He has also served on numerous committees, boards, and offices of the Diocese. After years of pastoral service to the local Church, Fr. Tony now looks forward to assisting Sts. Patrick and Boniface, and other parish churches in bringing the Eucharist and God's Word to the People of God.