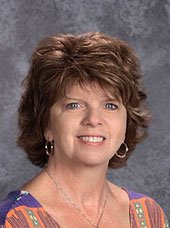 Jeanette Rowland
Assistant to the Pastor and Communication Specialist
Jeanette joined the St. Patrick staff in February 2017 as the Assistant to the Pastor and Communications Specialist. This was a newly created position by Fr. Jeff Shooner in response to the increased responsibility of serving two parish communities – St. Patrick and St. Boniface. She assists primarily with scheduling and communication and a number of additional responsibilities.
Jeanette is the youngest daughter of a career Air Force officer. Her childhood was spent living and traveling around the world, including one year of high school in Okinawa, Japan before graduating from Radford High School in Honolulu, Hawaii. She received a B.S.B.A. in Marketing from the University of Louisville. Prior to working at St. Patrick, Jeanette worked for 23 years for the American Cancer Society in both Las Vegas, NV and for the global headquarters in Atlanta, GA (living remotely in Louisville) as a program manager specializing in non-profit program development and implementation.
Jeanette and her husband, Chris, have two children, Alex and Erin. They have been active parishioners at St. Patrick since 2001.