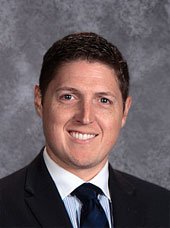 Nathan Sturtzel
Principal
Mr. Nathan Sturtzel is in his fourth year at St. Patrick and became principal of St. Patrick Catholic School in July 2016. Prior to this, he served as the Director of Student Achievement.
Mr. Sturtzel is a Louisville Catholic school product and moved back home to Louisville after living and working in Tampa, FL. There he earned his Master's degree in Educational Leadership and principal certification from Saint Leo University. Mr. Sturtzel has experience working in traditional and non-traditional public school settings in addition to Catholic education. He attended grade school and high school at St. Martha and Trinity High School, respectively, before obtaining his Bachelor's degree in Middle Grades Education from Western Kentucky University. His teaching experience includes a stint at Reial Monestir de Santa Isabel School in Barcelona, Spain.
Mr. Sturtzel is also a student in Spalding's Doctor of Education in Leadership program. Upon completion, he will have 17 years of Catholic education. He enjoys serving God and his community as an educator, everything music and Louisville sports, and spending time with his family. Nathan and his wife, Kailey, have two sons, Gabriel and Lucas, and a mini Aussie named Levi. They love Louisville and are proud to serve the St. Patrick Catholic School community.