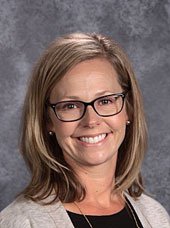 Tammy Kessler
Coordinator for Children's Formation
Tammy is the Coordinator of Children's Formation at St. Patrick. Prior to assuming this role in August 2018, Tammy worked as an administrative assistant to Youth Ministry and Faith Formation.
Tammy's role is part-time and she reports to the Director of Faith Formation.Her duties include leading the preparation process for First Reconciliation and First Holy Communion for our second graders at St. Patrick Catholic School and in the Parish Religious Education Program (PREP).She is also responsible for summer Vacation Bible School (VBS), our Sunday morning children's programs, Sunday School and Gather the Children.
Tammy and her husband, Jeff, have been members of St. Patrick for nearly 15 years. Their two children, Lilly and Patrick, attend St. Patrick Catholic School.Tammy is an active volunteer in the school and is involved in various ministries within our Church community.
Tammy holds a Master's Degree in Public Administration and had a career in Human Resources prior to the birth of her children.Before becoming part of the St. Patrick staff she taught fitness classes and performed contract work for her former employer.She still teaches fitness classes, is an avid reader, she enjoys arts & craft activities and she loves hiking and biking with her family.