Vacation Bible "Camp"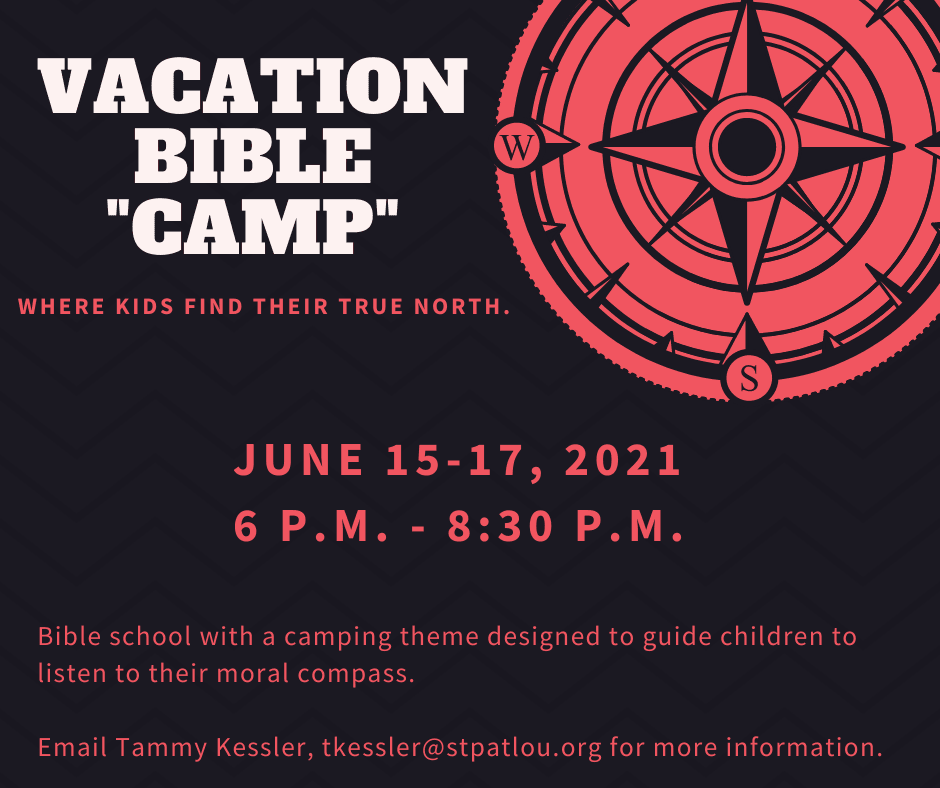 Our three-night event will include games, crafts, snacks, service projects, and lessons about our Catholic faith! The event will conclude with smores at Camp St. Patrick.
St. Patrick's Vacation Bible School (VBS) is designed for those children ages 4 (must be 4 by March 1, 2021) through rising 5th grade (they will begin 5th grade in the upcoming school year). Rising 6th graders through college students are encouraged to help lead the event!
Registration is $30/child; $80 for three or more children.
Registration occurs between May 15, 2021-June 1, 2021.
LINKS TO THE REGISTRATION SITE WILL BE PROVIDED AS THE DATE NEARS.
ADULT VOLUNTEERS
Adult volunteers, typically parents or grandparents of those children attending VBS, are needed to make this a successful event since they help provide overall supervision for the event. Adults with children attending are strongly encouraged to register early and to volunteer at least ONE day.
Any volunteer with children too young to attend VBS can take advantage of our Nursery, but we do require registration for staffing purposes. If you plan to volunteer and use the Nursery you register your child by emailing Tammy Kessler, tkessler@stpatlou.org.
Each volunteer must have a complete background screen and Safe Environment Training class on file with the Archdiocese. Contact Tammy Kessler, tkessler@stpatlou.org, with questions about this requirement.
YOUTH VOLUNTEERS
It takes nearly 100 youth helpers during VBS! Rising 6th graders through college-aged youth are encouraged to volunteer. This year VBS will empower the youth volunteers to lead and influence our "tribes" of attendees.
Youth can earn service hours for their time.
LINKS TO THE VOLUNTEER SITE WILL BE PROVIDED AS THE DATE NEARS.