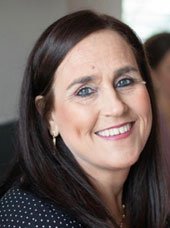 Jonna O'Bryan
Director of Youth Ministry
Jonna and her husband, John, have been members of the St. Patrick community since 2015. She has been employed with St. Patrick since 2015 as Director of Youth Ministry. In addition to her work here, Jonna and John are active parishioners, as are their Son and his family. The entire family volunteers and participates in this community. She also has a daughter, Emily, who lives in Cincinnati.
Jonna is also responsible for the coordination of the Sacrament of Confirmation, which is celebrated in the eighth grade at St. Patrick. She works closely with St. Patrick Catholic School and oversees the Confirmation Formation Program (CFP).
Jonna has 27 years of Youth Ministry Experience. Jonna and the Youth Ministry Team
strive to provide opportunities for young people to encounter Christ. The Youth Ministry
program at St. Patrick's proves to be faith-filled and enriching in ways that are
interesting, fun, practical and real. Her ministries, listed below, typically involve youth in
grades 6-12 and their families.
Ministries and Areas that Jonna Oversees/Serves:
Jr. High Youth Ministry Program
High School Youth Ministry Program
Adult Youth Ministry Support Team
Jr. High Youth Ministry Leadership Team
High School Mentor Team
Confirmation Formation Program (CFP) - For those 7th and 8th grade parish students not attending St. Patrick School
Cub Scouts, Boy Scouts and Girl Scouts
Archery
High School Boy's Intermediate Basketball League