Children's Formation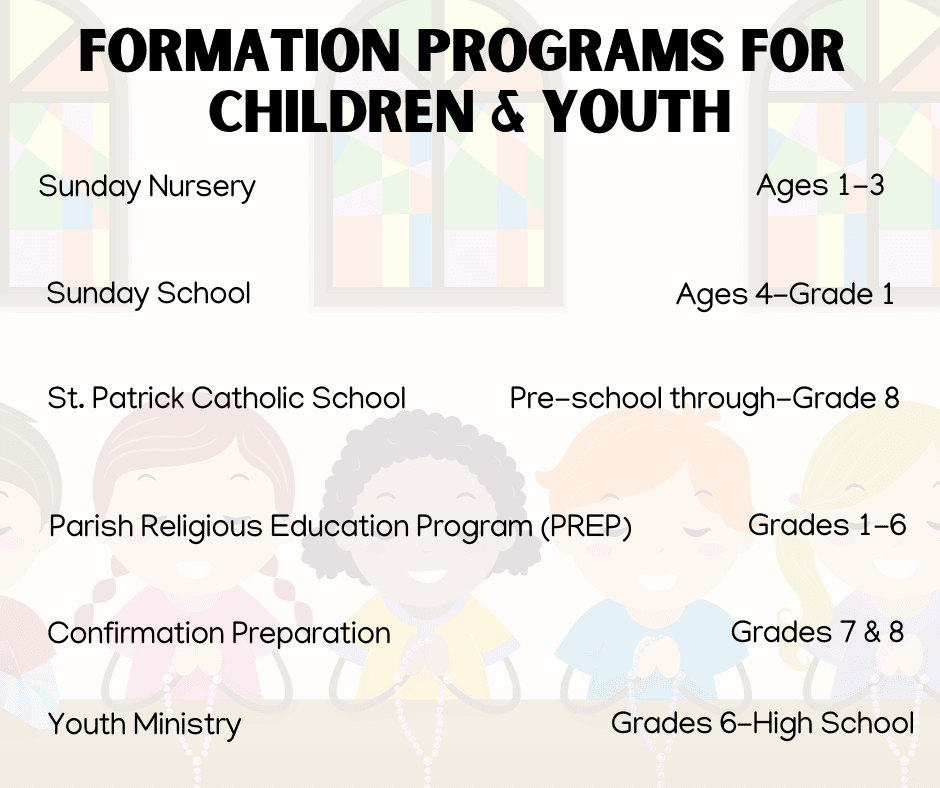 Children's Formation is designed to reach our youngest parishioners and to help parents strengthen the Domestic Church. We reach children through a variety of programs that include Sunday Nursery, Sunday School, Vacation Bible School, Sacrament preparation, and various other activities throughout the year. To obtain more information about Vacation Bible School and our 2nd Grade Sacrament preparation program, please click on the links above.
All of these programs are subject to change based on COVID-19 requirements.
Sunday School
The parish Sunday School ministry allows some of our youngest parishioners (Ages 4 through 1st Grade) to take the beginning steps in a relationship with God. Sunday School typically begins in September and continues through April/May during the 11 a.m. Sunday Mass.
Parents of children ages one through four are encouraged to utilize our Nursery program. The Nursery is open during the same times as Sunday School and is limited to the first ten children.
Curriculum:
The Sunday School curriculum is based on Catholic teachings. Children will learn the foundations of their Catholic faith through books, crafts, games and other activities.
Catechists and Volunteers:
Sunday School is led by a regular group of paid catechists (teachers of the faith). Parental involvement is vital to the success of this program. Our team of catechists depends on the help of parents to help keep the classroom organized and the kids on task. We ask that if your child is going to participate in Sunday School you volunteer in the classroom when needed. A sign-up genius for volunteer times will be provided with registration.
Adult volunteers should complete the Safe Environment Training required by the Archdiocese of Louisville. If you are unsure of whether you have completed this training or if you need to complete the training, please contact Lori Mehlbauer in the Parish Office, lmehlbauer@stpatlou.org. Click HERE for the link to the Archdiocese's Safe Environment Training class schedule and details on how to register.
Nursery
The parish Nursery ministry accepts children ages 1 through 3 (we encourage the children to move to Sunday School at age 4). The Nursery typically opens in September and continues through April/May during the 11 a.m. Mass. We operate with two paid staff members who are over the age of 18, are CPR certified, and who have completed all necessary Archdiocese training. Our Nursery does have a capacity of TEN children. The Nursery is free for our parish families, but we do operate on a first-come-first-serve basis.
Registration is not required but Children's Formation would like to have an idea of families that would be interested in participating in this ministry. We look forward to establishing relationships with you and your child(ren).